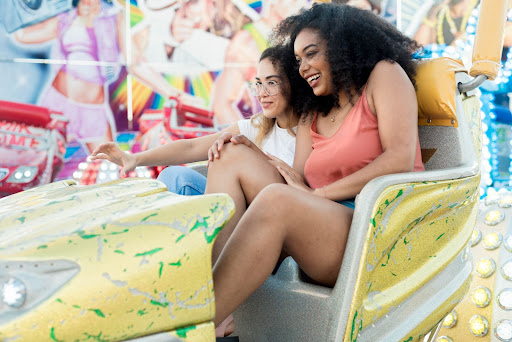 Like a thrilling roller coaster, these experiences can take you on an exciting journey full of twists and turns. 🌪️🎥
Like a roller coaster enthusiast knows the importance of keeping their hands inside the ride at all times, there's a valuable lesson here for effective communication: Keep your hands inside the "box." 🙌🎢
But what is this "box," and why is it your trusty safety harness in the world of video communication? Let's take a closer look:
The specific range or dimensions of the metaphorical "box" mentioned in the passage are not precisely defined, as it is more of a conceptual guideline for using hand gestures effectively during a presentation or video communication. The "box" represents the space around your torso and upper body where your hand movements are most visible and influential.
Typically, the "box"📦 encompasses the area around your chest, shoulders, and head, which includes:
Chest: Your gestures can extend out from your chest to emphasize points or concepts, but they should generally remain within this area.
Shoulders: Your hand movements can also involve your shoulders, but again, they should not extend too far from this region.
Head: Gestures involving your face and head, such as facial expressions and head nods, are also part of the "box."📦
The idea is to keep your gestures within this general range📦 to ensure they are visible and enhance communication without becoming overly distracting or exaggerated. The specific dimensions of the "box" may vary from person to person, but the key is to use gestures purposefully within the space immediately around your upper body to convey your message effectively.
What are the benefits of keeping your gestures within the "box"?
Engagement and Attention: 🎯🚀 Picture this:
You're on a roller coaster and fully engaged as the twists and turns keep you on your toes. In the world of video presentations, effective hand gestures are your secret weapon. They capture your audience's attention, just like the thrill of a roller coaster. When viewers are engaged, their brains reward them with a dose of dopamine—a chemical responsible for pleasure and reward. This heightened focus ensures their eagerness to stay on board for your entire presentation.
Visual Processing:
🎨🖼️ Much like the stunning vistas you see from the top of a roller coaster hill, hand gestures offer visual cues that simplify complex information. They help your audience's brains process and understand your content more efficiently. This activates regions responsible for visual processing and memory, just as breathtaking views etch themselves into your memory during a roller coaster ride.
Mirror Neurons:
🔄🧠 As you ride a roller coaster, you might notice your fellow passengers' reactions and mirror their excitement. Similarly, hand gestures activate something called "mirror neurons" in your audience's brains. These neurons help them grasp and internalize your message by mirroring your actions.
Emotional Connection:
😃🤗 Just like the roller coaster's steep drops and loop-de-loops evoke excitement and emotions, your hand gestures act as emotional punctuation marks in your presentation. They activate brain regions linked to emotional processing, fostering a deeper connection between you and your audience.
Memory and Comprehension:
🧠📝 Effective hand gestures are memory enhancers, much like souvenirs you collect after a thrilling roller coaster ride. By associating specific gestures with critical points, you make it easier for your audience to remember and comprehend your content. Think of the hippocampus and other memory-related brain areas as the vault where these memories are stored.
Reduced Cognitive Load:
🧩🤯 Ever been on a roller coaster and appreciated the moments when the ride felt smooth and enjoyable? Well-timed hand gestures do the same for your audience by simplifying complex ideas and reducing the cognitive load on their working memory. This ensures a smoother and more enjoyable information-processing ride.
Cortisol Regulation:
😅🌡️ Riding a roller coaster can be nerve-wracking, as can watching a high-stakes presentation. But effective communication, including the strategic use of hand gestures, can work wonders in calming your audience's nerves. Lower stress levels lead to a decrease in cortisol, promoting a more positive and receptive mindset among your viewers.
So, as you navigate the roller coaster of video presentations and interviews, remember this sage advice: Keep your hands inside the "box." Much like a safety harness ensures your safety on a roller coaster, hand gestures effectively ensure your message resonates and engages your audience. 🎢🤝
With this insight, you're ready to ride the waves of on-screen communication like a seasoned coaster enthusiast. Lights, camera, hand gestures—let's make your next presentation a thrilling adventure to remember! 🌟🎥👏
#EffectiveCommunication #VideoPresentation #HandGestures#RollerCoasterOfCommunication#CareerCoaching#VideoPresentation#VideoInterviews
If creating a presentation is in your near future, reach out. I would love to help you be effective and reach your goals! I believe that you are a winner, "Hands Down"!
Although video presentations and interviews are much more mainstream these days, I still get asked "What do I do with my hands?" There is a balance to how to use gestures within this successful range to increase engagement but not overwhelm or distract the viewer. The model of keeping your gestures in the "box" is the key is to use gestures purposefully convey your message effectively. Check it out! #EffectiveCommunication #VideoPresentation #HandGestures