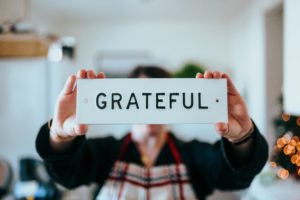 I was sharing with my coach a negative rant and how overwhelmed I was with things that had to be done, including picking up dog poo, weeding the garden, running errands for kids, business follow-ups and networking events. She reminded me that even in the poo there is something to be thankful for if I took the time to shift my perspective.
Ouch, having to take my own advice, you know I wrote about how where there is poop, there has to be a pony a while back. She challenged me to make a quick list of some things that I am thankful for, and it made all the difference in bringing peace to a demanding day. I thought I would share my list with you here and encourage you to give it a try when life seems blue, negative, sparse or way too busy.
My Gratitude List:
1. I am thankful for my diversely talented children, who inspire and challenge me in any given moment. They have quick and clever humor, big hearts and happen to be the best-looking kids I know. Okay, my bias might be showing just a little.
2. After 28+ years, I am still madly in love with and thankful for my husband. We still go out on dates and miss each other when we are apart. Last Wednesday, while he was gone on a business trip, I found a sweet card stashed away telling me how much he loved me and missed me more and more as each moment passed. BTW, he had only been gone 10 minutes.
3. I can even be thankful for picking up the dog poop in the back yard. Yes, because I have three sweet little dogs, the K-3s as we call them, each with their own quirky personality and story of how they came to us, and how they add to our lives. It is all worth it.
4. I so appreciate my extended family, the loving herd of 15 – 25 people who show up when called on to share a meal, welcome a new baby, stand by you at a wedding or support you when times are tough.
5. I love my community and the kindness and connections we have here, where everyone knows each other and watches out for each other. This is a place where you can borrow an egg, share a cup of coffee and find a shoulder to lean on.
6. I am extremely thankful for the work I do. I help people get unstuck and clear about their next steps in their lives, careers or businesses. Three times in the last 7 days, I have been told how much my work has meant to the lives of clients. Wow, and I get to do this every day!
It is amazing how making this list changed my blah-ness into an entire day of joy and awareness of what is possible and the blessings I was taking for granted and it all happened in seconds.
Some people say that I am lucky, but that seems to be too small of a word. I like to think that I am blessed, because even though this year has been punctuated with great and frequent loss, I still seem to have more than I could possibly deserve or attend to in this short post.
I will leave you with the quote below from Melody Beatie and an invitation to reach out to me and share something you are thankful for or let me guide you in how to unwind your blah.
"Gratitude unlocks the fullness of life. It turns what we have into enough, and more. It turns denial into acceptance, chaos to order, confusion to clarity. It can turn a meal into a feast, a house into a home, a stranger into a friend. Gratitude makes sense of our past, brings peace for today, and creates a vision for tomorrow."
–Melody Beattie
Give me a call and unwind your blah! Get Unstuck!
[maxbutton id="15″]